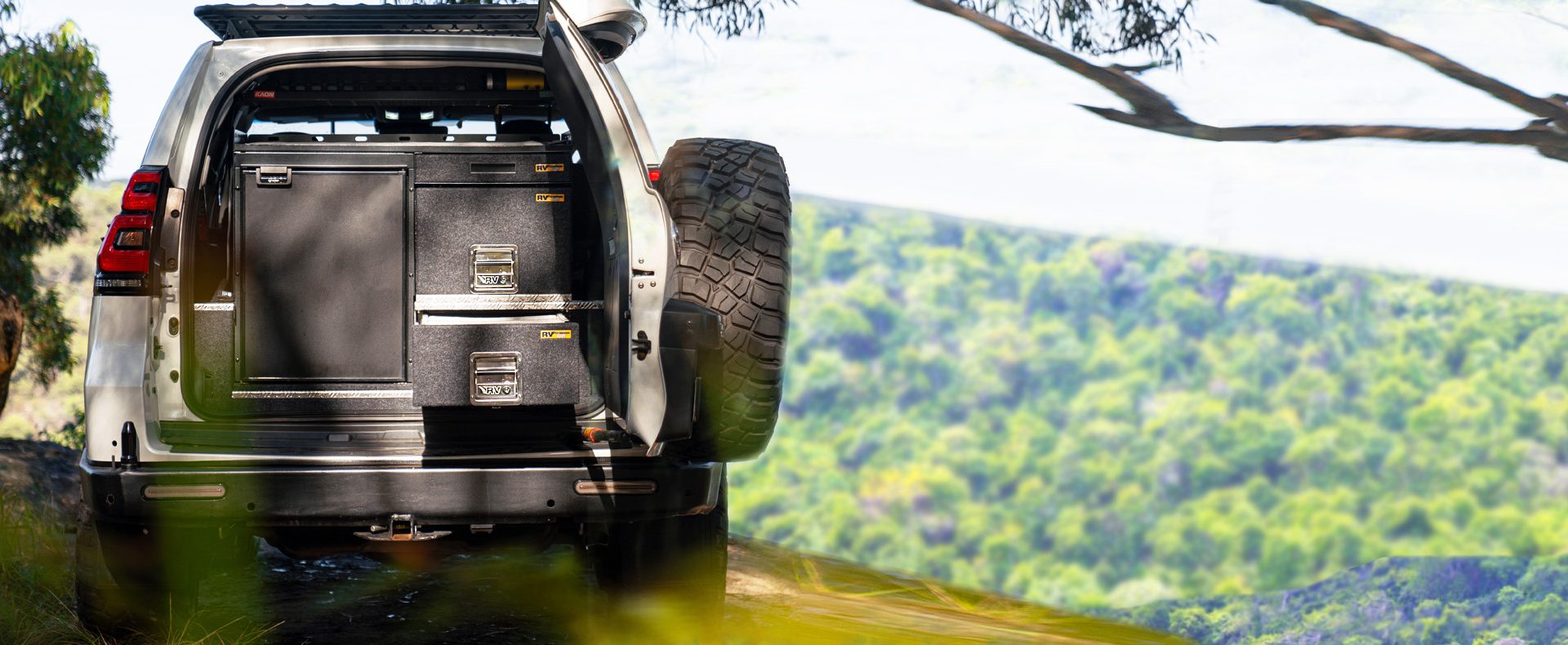 Australia's Leading
Vehicle Storage
Solutions
WE HAVE THE
LARGEST RANGE
OF DRAWERS
ADR
CRASH TESTED
FOR YOUR SAFETY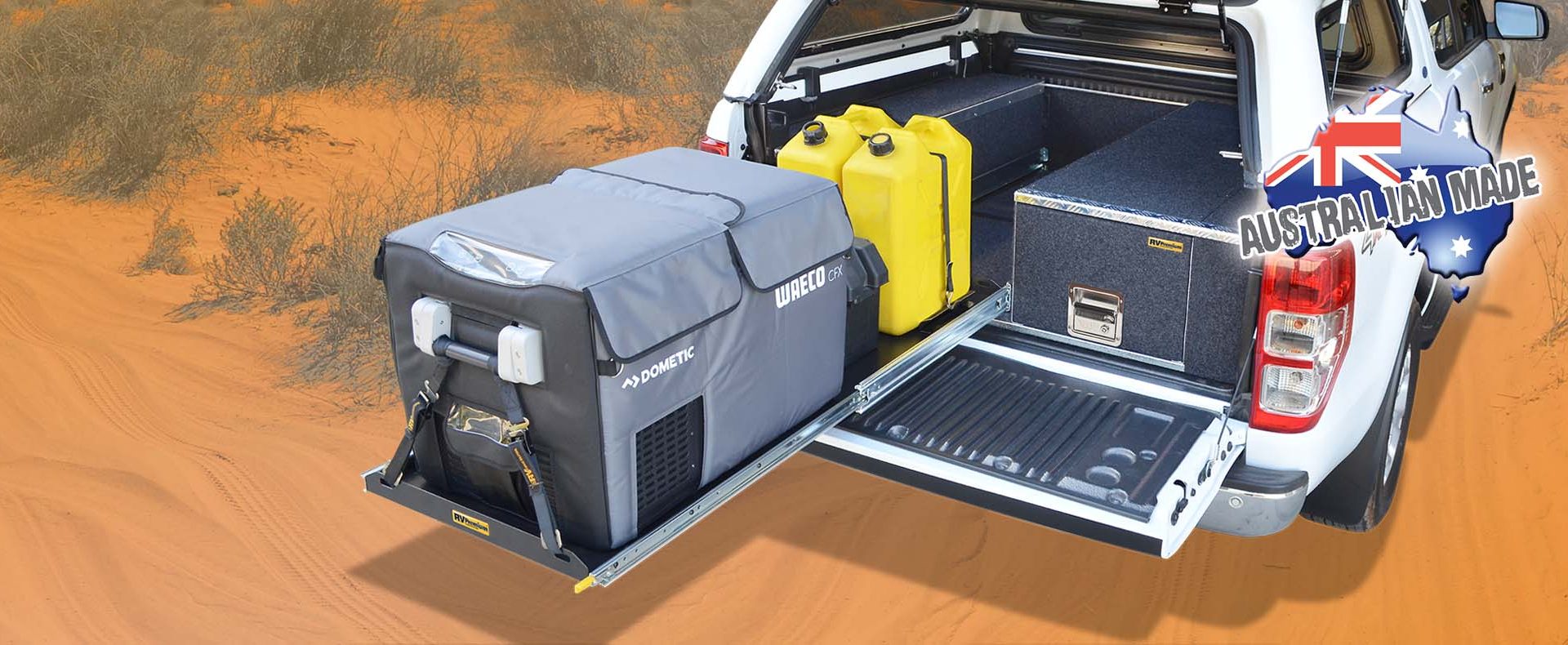 TOUGHEST
SLIDES ON
THE MARKET
RV can be
as gentle or
as tough as
you need them
to be!!
Drawer Table Tops
Extension Tables
easy and convenient
THE OLIVER FAMILY
HAVE A REPUTATION
FOR TOUGH, RELIABLE
STORAGE SOUTIONS
Find My Vehicle

A look inside our factory
At RV Storage Solutions we manufacture Australia's finest 4×4, SUV and RV drawer systems and storage. Here's an insight into how and why we are the best at what we do…
TILT SLIDE COMBO with barrier Prado 150
Check out the RV Tilt Slide fitted to this awesomely equipped Prado 150. Our Tilt Slides are compact, have a built-in alloy barrier  to take up less space and they are light weight. Making our Tilt Slides the best on the market!
"Thanks to RV Storage Solutions for setting up the perfect draw system to suit our needs".
Just had a set of drawers with inbuilt fridge slide fitted to my MQ triton. The quality is amazing. Had looked at many draw systems, but opted for your Premium steel drawers, which seem to be at another level in terms of build quality, strength and finish compared to what's in the marketplace. TJM Clovelly Park, SA also did a great job providing advice and fitting them which makes the whole exercise stress free. Australian manufacturing at its finest.
We've got some 20 year old drawers built by Mark at RV Storage Solutions, still going strong and used everyday. Bloody good quality Australian made drawers.
Black Widow was a game changer in the drawers and vehicle storage and RV takes it up another notch. They are in Gisborne, Vic. Please keep manufacturing in Australia and support local jobs.
The wait is worth it. Sit tight. We had Black Widow in our 100 Series Land Cruiser for 10 years until car was sold. We went straight back to RV for our 2018 Prado.
Hey guys and gals. Hope you are all well. We are planning for our big lap for later this year and have been looking at drawers for the rear of our Y62 Patrol. I just wanted to tell everyone about my experience today at the caravan show in Melbourne. We ran into this stand for RV Storage Solutions. Now I assure you, I have absolutely no ties to these guys or ulterior motive. I just wanted to say that they were amazing. Really friendly, accommodating, informative. Their systems are absolutely amazing, are fit for crash standards and firearms storage in Australia, a fraction of the price of the other large brands and best of all... 100% Australian made here in Victoria. Needless to say we signed up on the spot and look forward to going to have them professionally fitted at their factory in a few weeks once they have made them. If you are in the market I highly recommend giving them a call! They also do storage boxes for caravans and all.
Hi guys, just wanted to let you know my RV Drawers are now in, and they're an awesome great product. Greg Stone
Great service and an awesome Australian made product. I had my drawers installed last week by A.I.S in Sydney and am over the moon. Highly recommended.
We wanted to replace a pull out kitchen on our caravan with a storage drawer. We encountered RV Storage Solutions at a 4x4 show and were impressed with the quality and extent of the display. The staff were proactive and involved in suggesting what was possible. We were able to see and try what we were looking for and ordered immediately with some modifications, including aluminium for lighter weight rather than steel. It was worth the trip from Melbourne Eastern suburbs to Gisborne for the fitting of the storage drawer and lid, which was done while we waited. We are delighted with the result - the drawer is solid, works beautifully and looks great! We would recommend RV Storage Solutions. Thanks Tash and staff!
I ordered an RV EcoLite Cargo Slide or my PX Ranger ute. I have been really pleased with it. It fits well between the wheel arches, leaving room for my auxiliary battery and other bits and pieces. The slide rolls very well and the multiple locking points work well and are likewise well spaced. There is the exact space I need to store my 41lt ice chest behind the fridge and I have plenty of access to the chest. On the other side of the slide I have found heavy duty plastic tubs to fit perfectly. I now have easy access to the contents of my ute tub without breaking my back & knees.
Very happy with the set up as its making work a breeze being so organised and able to access all tools with ease. Thanks again for delivering your promise on delivery date ( actually 1 day earlier! ) it was a pleasant surprise after the more than average customer service received from ARB!
"Really neat and tight guys. I love them - quality and premium."
I just wanted to drop you a note after having a set of your premium drawers installed by TJM Airport West. I'm extremely impressed with the fit and finish of the twin drawer system. They fit perfectly into the back of my Hilux and will be invaluable on camping and 4wd trips with our 2 kids. Usable space has been increased dramatically, and combined with a Clearview ES-100 drop down fridge slide will make travelling far more convenient and enjoyable. Thanks very much.
I have a set of BW drawers plus shelf and divider in my 200 Series LandCruiser and can only rave about these drawers! Multiple trips through outback Australia, Kimberly and the Pilbara, Simpson desert etc, and the drawers have never missed a beat. They are without a doubt the best drawers available, and now you're back – fantastic! When I do build my next truck, it WILL be with RV drawers. If I'm up your way, I'll drop in to say hello. Very best wishes!
I've had these RV drawers fitted to my 80 then 100 series cruiser's & now fitted to my 2013 200 series. The drawers have been used to carry work tools all this time & get a fair bit of a work out. I would highly recommend RV Storage Solutions as these drawers are over 10 years old & yes they do get used for the holiday trips as well.
Twin Drawer drawer system clocks up 450,000km When you have a product that you are proud of, it is always nice to get feedback from a very satisfied customer, we had such a customer Barry Johnson call up last week. Barry had just purchased a new Toyota 200 series GXL and wanted to retrofit his drawer system from his 100 series GXL. Needing to do some final sizing and templates we arranged for the vehicle to be re-fitted at our factory in Gisborne. On arrival in his new 200 series with the old drawers in tow, Barry proceeded to tell us how happy he had been with the system over the past 8 years!! We proceeded with a conversation and frankly, we were all quite amazed! Barry is a very keen 4WD enthusiast and both business and pleasure took him to all corners of Australia. Barry had purchased the drawers from Mark and Karen Oliver 8 years ago at the original Black Widow factory in New Gisborne for his 80 series Toyota. The system was subsequently retro fitted a few years later to a 100 series standard, then to a 100 series GXL and now into the new 200 series GXL. The drawer system has been around Australia several times including Cape York, The Great Australian Bight, Mt Newman, Margaret River, Flinders Rangers, The Canning Stock Route and almost all of the WA mining tracks. Surprisingly, about the only trip Barry had not attacked was the Simpson, this was his next planned trip in the new 200. Barry had worked out that the Black Widow system all up had travelled approximately 450,000 - 500,000 km over the past 8 years and included some of Australia's harshest terrain. Curiosity got the better of Hayden, our Technical executive and chief drawer builder. How did our system fair after so many years and miles around Australia? The system was placed into the jig for a service and the retrofit and found to be only 1.5mm out of square and apart from a general clean, worked perfectly. As a business we rigorously test all our products in some of the harshest off road and climatic conditions. (Sometimes it is just a good excuse to head outback for a few weeks). Stories like this only verify what we constantly strive for. The best off road storage systems available. We would like to thank Barry for his feedback and wish him luck on future trips. We will also be monitoring the drawer system.
CHECK OUT

OUR workshop fittings
The "Contents Page" features an easy to use interactive listing.
Simply click on the vehicle brand you are looking for and go directly to the first page of the listing for that brand.
Use the convenient "Back To Contents" button on the top right corner of each page to get back to Contents quickly!